My friend Linda has it right. For eight years, she has been laser-focused on one goal: to become self-sufficient on her own land in a home that provides its own heat, power, and water–even food. Every decision, every choice in that time, was made with this in mind.
Now, Linda is beginning to see the fruition of her dream:
She is living on land in southeastern Arizona that she got for a song (land is dirt cheap when you don't need electricity or running water.)
She is preparing to find, buy, and transport the materials for the Earthship that she has dreamed of for so long. These self-sustaining, passive solar houses use mostly recycled and locally sourced materials but very little of that will come for free.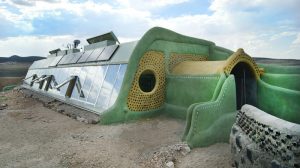 I am lucky to be along for the ride. I joined up mainly because Linda's single-minded determination was irresistible. After I saw her achieve the impossible over and over, I knew she would accomplish this too. So, for now, I am Linda's helper and follower, her sidekick.
Because I believe in dreams.
Considering what is going on in Washington these days, I think she must be clairvoyant. Social Security ain't looking too secure right now.
We joke that we are two old ladies about to become farmers. (Well, here in the Southwest, I guess we can call ourselves ranchers.) Soon, we will build a greenhouse and start growing vegetables and herbs to sell at the local farmers' market.
We have other plans for raising money too. I'll document it all in a book. Linda's plan includes a YouTube channel to show others how to do what she's doing — where and how to buy cheap land, how to homestead it, the ins and outs of zoning and permits. (She is a former general contractor and building inspector, so she knows her shit.)
Are we crazy?
I may wonder about that in days to come when my back hurts and the sun is beating down, but I know Linda has no doubts. This is gonna happen.
Stay tuned.