I haven't brought her home yet, but as of sometime tomorrow (Thursday) afternoon, this beast will be mine. I just have to take her to my mechanic for a double-check, sign some papers, and drive her home.
I decided to name her Big Bertha because, well, she's BIG. I practically need a boost to get in–in fact, I should get a step-stool (or step-LADDER).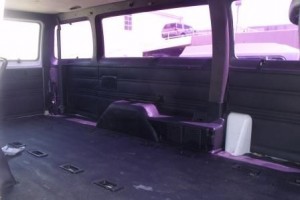 There's plenty of room inside for living. In fact, a Facebook friend who has this exact model says he measured once and found that a Mini Cooper would fit inside!
But I'll just start with a cot, a cooler, a Luggable Loo, and some boxes for storage, thanks. The Mini Cooper can come later.
Yes, Ms. Bertha is a gas guzzler. But since I don't have to drive to work every day and can choose how far and how often I want to go, I can control the cost of gas.
First trip: Quartszite, AZ for the RubberTramp Rendezvous vandwellers' meetup in THREE WEEKS. Excited! This will be a chance for me to practice in a safe place where experienced vandwellers can show me the ropes. Lots to learn!