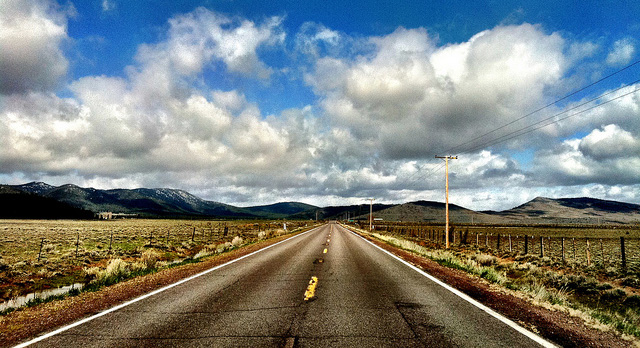 Hey there! I know it's been a while but I haven't forgotten you, my fellow flake. And guess what? We're going on a road trip! If you want to come along for the virtual ride, that is.
You see, I have been longing to pick up stakes and hit the road since I was a teenager. That's when my mother and I went on an epic vacation that led from our small Minneapolis apartment through the Badlands and Black Hills of South Dakota, across the mountains of Wyoming, all the way to Yellowstone.
It was 1959, the summer I turned 13. We camped out under the stars and slept on a mattress in the back of Mom's white Valiant station wagon. I've never forgotten the buttery taste of rainbow trout that we caught ourselves and cooked over a campfire next to a still-icy stream, the smell of crisp air and wide open sky, the  shock of seeing snow in June (and throwing snowballs in my shorts) in the majestic Grand Tetons, the breathless feeling of freedom on the road.
We were so happy during those two amazing weeks that we decided to live like that some day. The plan was for me to drop out of school at 16 (this was Mom's idea, believe it or not, and homeschooling was not even a concept back then) and we would drive around the country seeing all there was to see. When we ran out of money, we would stop and work as waitresses until we saved enough to take off again.
It was a beautiful dream.
I can still see my fantasy: the two of us traveling back roads, meeting all kinds of people, seeing the real America. I lived for my 16th birthday so we could go on our Big Adventure at last. But Mom must have forgotten our dream because she went and opened a restaurant, fell in love, and got married. *sigh* Women.
So we didn't go. But I didn't forget. Soon it was the 70's and I dreamed of going off in a converted VW bus with a bunch of hippies, but life intervened. In the 80's, I planned to go on the road in an RV like Charles Kuralt (only without the CBS camera crew and money), traveling from town to town, interviewing ordinary people about life in America. I even went on a cross-country trip with my Aunt Babe and Uncle Bert in their big motor home, to see if my fantasy could survive reality. It could, and did.
And then I fell in love and got married. *sigh* Women.
So here it is, 2013, and I still haven't followed my dream. The husband is long gone, the kids are grown, and it's time. I'm 66 — I can't wait any longer. So I'm going.
Okay, I do have to wait a bit.
Preparations must be made. Funds must be raised. A proper vehicle must be found in which to live and travel — I'm not up to sleeping in a station wagon any more. Nonessential stuff must be disposed of. This cranky old body must be put back in shape, as much as possible.
Beyond all that, decisions must be made about the purpose of the journey. I want to interview people and share their stories in a book and/or film. And I definitely want to visit all the wonderful friends I've made in cyberspace.
This will mean lots of criss-crossing of North America — and I hope, some longer jaunts to Europe and Australia. All of which takes lots of planning! Which is a total blast!
So I'm setting a launch date of April 1, 2013 — April Fool's Day, which feels like the perfect day to begin a fool's journey Oct. 15, 2013 (had to postpone a bit to have time to save up for the van.) And I'll be blogging the whole thing — the preparations, the planning and, of course, the trip itself — right here on The Complete Flake.
That's my dream — what's yours? Are you planning a big, awesome trip or other goal?
Let's work on our dreams together.
If you would like more than the occasional blog update, if you want the insider stuff — the small but real steps of how I'm making huge changes in my life, and how you can too — sign up for the special Road Trip! newsletter. (No worries, I hate spam too.) There's a small monthly fee of $7 — a no-brainer, right? And it's free!
Think of it as a motivational journey — what can you do now, small steps, to get there. You can do the fitness part with me, or decluttering/downsizing if you like, or work on your own Dream.
Any questions?
Where do you plan on going?
The U.S. and Canada, plus Baja California. I hope to hop over to Europe and Australia eventually, too.
Will you visit my town?
I hope so! Sign up for the newsletter and help plan my itinerary. 🙂
Who will you interview? What will you talk about?
I'll be talking to the people I meet along the way, and gathering their stories for the blog and possibly for a book.
What will you do with the interviews?
I'm hoping to write a book and possibly make a documentary film. Ideas for that will be a topic of discussion in the Road Trip! newsletter.
How long will this trip last?
A year, maybe two — maybe the rest of my life.
What will you need in order to get going?
A used cargo van that I can live in (I have a friend who will convert it for living with a bed, solar panels, etc.), camping gear, and an emergency fund for car repairs and other unpleasantries.
How will you raise the money for that?
By selling my book, Getting Sh*t Done and other writing, and possibly a Kickstarter or Indie Go Go campaign.
But it's dangerous out there!
It's dangerous everywhere. I'll find a loveable-yet-protective (and cute!) pooch to adopt for company, security and entertainment. Don't worry!
Come away with me!* $7/mo. Free!

*We even have our own theme song, Come Away With Me by Norah Jones. Love that song.