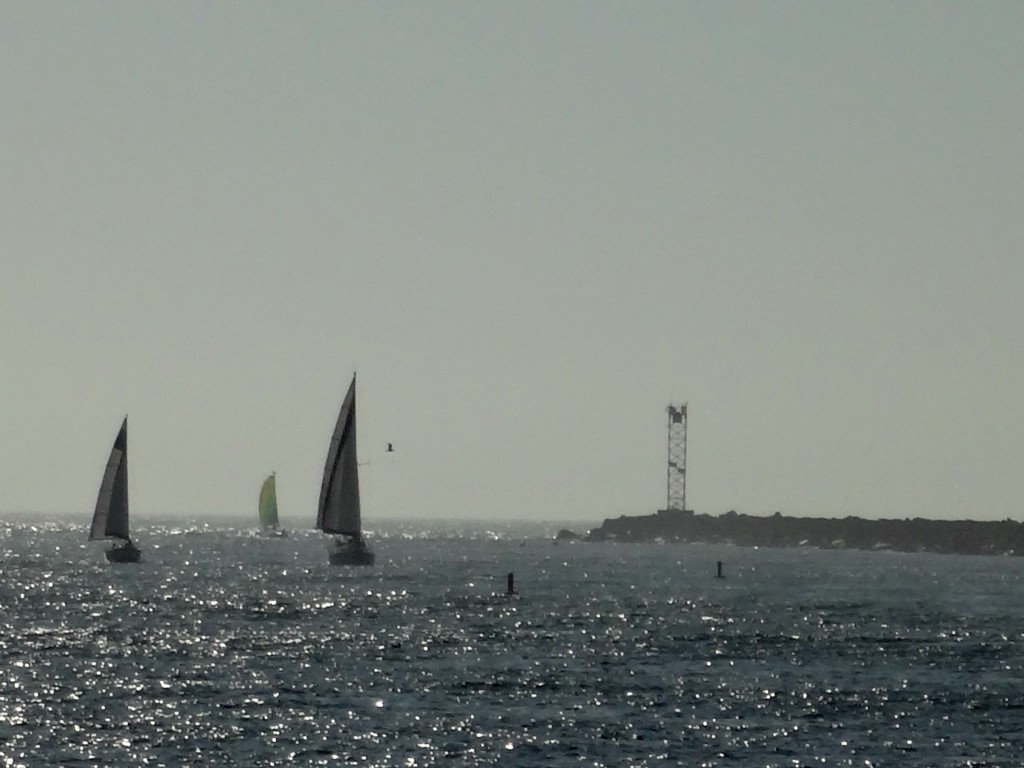 It is Saturday, and everything is different at Quivera Basin in San Diego. I came here a couple of days ago to escape the awful heat that was making life miserable a few miles inland. The cool breeze coming off the ocean is just as delightful as ever today, but the atmosphere has changed since yesterday. It is no longer a secret spot for just a few smart and lucky souls. On the weekend, it seems like everybody knows about this place.
I parked for the night a few blocks away and got here this morning before seven to stake my claim on a parking spot for the day. Already, the lot was almost full. A dozen sneaker-clad women met under the picnic pavilion for a group run, fishermen got their gear ready for angling, snorkelers squeaked into wetsuits, and by afternoon, a bride and groom had said their vows in front of assembled guests, quickly posed for photos, and left.
Now, on the crowded water, boats of all kinds glide past: trawlers, sailboats, speedboats, yachts, kayaks, paddle boards, jet skis, and big boats jammed with tourists, headed out to sea. The air smells of seawater and vibrates with the sound of diesel engines. Fishing boats are surrounded by clouds of seagulls and pelicans, followed by a barking seal or two.
Everyone, it seems, is out to cram as much fun as possible into the weekend.
Here on land, I sit in a row of cars and trucks pointed at the water and notice I am not the only one just watching others having fun. But even that is fun.
This is all new to me. In spite of my avowed purpose to change my life and be out in nature, I have spent most of the last eleven months indoors — inside LaVanne, looking out. I've camped in some of the most beautiful places I've ever seen but when I am outside, I can't wait to get inside. It's comfortable in here. It's my nest, my cocoon. I don't like to leave it. As I have pointed out before, I don't like the feeling of the sun on my skin. And I don't like feeling exposed, without a barrier of some kind — a wall, a curtain, a window — between me and the world.
Like Peter Sellers' character, Chance, in the 1979 satire, Being There, "I like to watch."
Is that so wrong?