Getting Sh*t Done is a Bitch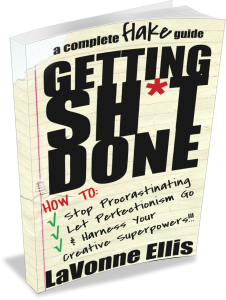 I am on Facebook, Liking and Sharing up a storm, waiting for midnight so I can tell everybody that my Kindle book, Getting Sh*t Done, is free for the next three days. (Go grab it now.) I tell you this because of the irony: I have written a book about overcoming procrastination, but I have been putting off writing this blog post for days now.
What can I say? I wrote the book for myself as much as for you. I struggle with this demon every day, just like you. I have gathered together everything I have tried and learned, everything that has worked for me and others, and put it in a handy little guide so you and I can refer to it in emergencies (like now!)
So what's working to make me write this, when I would rather go hide under the covers? The clock. Midnight is almost here. Deadline pressure that I gave myself. Also: accountability. I told all my friends that I was going to do it, and now I have to keep my word. No, this post isn't perfect, which makes me and my OCD-level writer's block tingle like crazy, but I'm trying to let go and accept whatever comes. I hope you will read this with compassion.
Anyway! The book! It's free! Go get it now!
~~~
Want more like this?
Only more in depth, with more photos, videos, and audio? Even a real live, snail-mail postcard now and then?
Watch me face my fears. Share my triumphs. Learn with me what it's like to go from a fat, aging, sedentary mouse potato to a lean, not-so-mean, vandwelling adventurer. (Well, that's the plan, at least.) Five Dispatches from La Vanne per month in your inbox --- and once I'm on the road, a monthly actual postcard from wherever I happen to be.