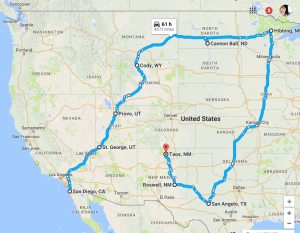 I have been traveling too much.
Over four thousand miles in six weeks, with another seven hundred or so to go before I stop for the winter. I am in Taos, New Mexico now, resting and trying to process all that I have experienced before I move on.
The most memorable two weeks were spent at the Sacred Stone camp near Cannon Ball, North Dakota, where hundreds of Native American tribes have come together to support the Standing Rock Lakota reservation as they try to stop what they call the "black snake" oil pipeline from going through their land and potentially contaminating their water source, the Missouri River.
I wish I had thought to take photos of the people I met so I could share them with you — Lisa and Donna, the main camp cooks who oversaw my pathetic attempts to help by washing dishes and peeling potatoes; Curly, Donna's husband and the apparent camp leader; Calvert, who led the prayer circles; and many more whose names I can't recall.
I grew to love them all in the short time I was there. Everywhere I went, people thanked me for coming. The atmosphere of peace and love was palpable.
I wanted to stay another month but a death in the family meant I had to leave. Now, as law enforcement is clamping down violently on the peaceful water protectors, I feel like a coward for leaving so soon. My heart hurts when I see what is happening there now.
Please hold them all in your thoughts.