Join me in a G+ hangout tonight
Hey, just a quick note to let you know that I'm taking part in tonight's (Monday, May 6) kickoff of the Sister Stir it Up online book tour. It's a G+ hangout at 9pm Eastern/6pm Pacific and we will talk about getting shit done. Brooke Brim is the genius behind this month-of-May tour, featuring an amazing group of authors who write and blog for women. I am totally honored that she invited me.
So, if you're having trouble with procrastination, perfectionism, or just being a flake, come and join the fun. We'll take the ICK out of prodICKtivity (sorry, couldn't help myself) and show you how to actually ENJOY getting your shit done. (Yes, it's possible.)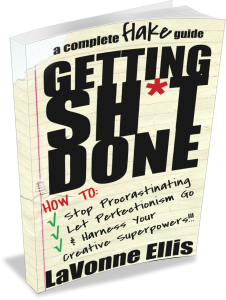 Btw, in case you haven't picked it up yet, my book, Getting Sh*t Done: Stop Procrastinating, Let Perfectionism Go, & Harness Your Creative Superpowers, is free until midnight Pacific. Grab your copy now.
p.s. You don't need a Kindle to read it — just get one of the free apps here.
~~~
Want more like this?
Only more in depth, with more photos, videos, and audio? Even a real live, snail-mail postcard now and then?
Watch me face my fears. Share my triumphs. Learn with me what it's like to go from a fat, aging, sedentary mouse potato to a lean, not-so-mean, vandwelling adventurer. (Well, that's the plan, at least.) Five Dispatches from La Vanne per month in your inbox --- and once I'm on the road, a monthly actual postcard from wherever I happen to be.